Pediatric Dentist in Bangalore | Kids dentist in Whitefield at Growing Smiles
Pediatric dentist in Bangalore, kids dentist in Whitefield at Growing Smiles. State of the art dental clinic for your child in Bengaluru, Karnataka. Best Pediatric dentist near me.
#PEDIATRIC DENTISTRY FOR KIDS
Growing Smiles Pediatric Dentistry -
Our Story
Growing Smiles is an exclusive pediatric dental care center located in Whitefield, Bangalore that is focused on revolutionizing the way children experience dental care. Our core principles are rooted in delivering exceptional service that relieves anxiety & ensures the proper care of your child's specialized dental needs. Our philosophy emphasizes a preventative methodology that will prevent the onset of serious dental problems. 
At Growing smiles, we examine dental health and then provide preventive dental procedures for kids. Procedures such as fluoride treatments and dental crowns that prevent caries and decay thus ensuring healthy permanent teeth.
Pediatric dentists train for three years in specialist dental schools that teach behavior management as well as child phycology. These critical skills make kids feel comfortable in a dental environment.
Our dental practice is friendly and ensures we treat your child with best in class care. We also provide many types of dental braces for kids when it comes to Pediatric Orthodontic treatment
Book An Appointment For Your Child
Our main Focus is Pedodontics
Specialized Dental Services for Kids
The anatomy of your child's teeth varies from that of an adult. Our instruments are designed to provide the most gentle dental care especially for complex procedures such as a root canal. Our Pedodontist diagnose detrimental habits such as thumb sucking that could be detrimental to your Childs oral health. Such habits lead to misalignment of erupting teeth as well as gum diseases which could be prevented at an early stage. Our dental exams diagnose pediatric orthodontic treatments using state of the art technology.
A dental visit for a child is never fun. Our care centre is engaging and educational and we ensure that kids no longer feel that a dental visit is something to dread or worry. We are fully equipped to cater to your child's comprehensive dental health care needs as well as overall well being.

MDS- Pediatric & Preventive Dentistry
Resident Pediatric Dentist
A pediatric specialist with 4 years experience in treating children, Dr. Janani completed her BDS and MDS from RV Dental College, Bangalore. Her passion for healthcare and love for kids led her to pursue a career in pedodontics. 

MDS- Pediatric & Preventive Dentistry Consulting Pediatric Dentist
A pediatric specialist with 5 years experience in treating children, Dr. Jena completed her MDS from CORDS Dental College. She is a university rank holder and is involved extensively in research work in pediatric dentistry.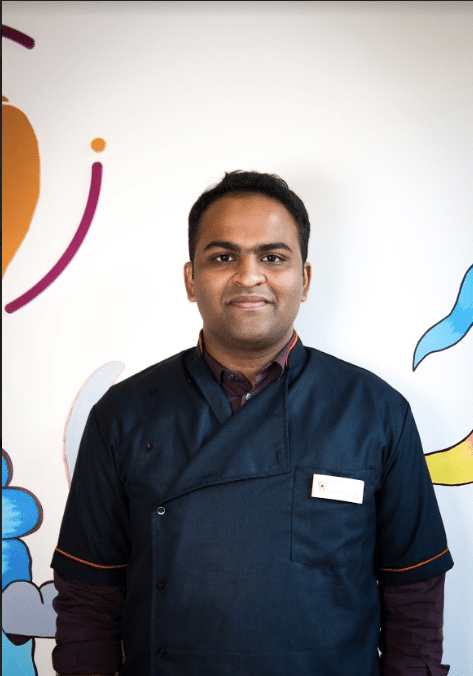 MDS- Orthodontics - Orthodontist & Invisalign Specialist
Dr Vivek is an experienced Orthodontist who completed his BDS and MDS from RV Dental College, Bangalore. Dr Vivek is a avid technology enthusiast and is constantly up to date with the latest technologies and appliances in the field of dentistry and orthodontics. 
CEO at Growing Smiles Dentistry
Crafting Specialized Pediatric Dental Experiences
Pediatric dental care is specialized dental care geared towards adolescents. Dentists that specialize in pediatric care are experts in the teeth of our little ones. As growing humans, our children have a separate sets of prerogatives to worry about. They are losing teeth, and growing new teeth that will stay with them for the rest of their lives. It is imperative the your child seek the special help of a pediatric dentist over a general dentist due to the specialized nature of pediatric dentistry. Just as adults visit specialist for certain needs, our children deserve the qualified experience of a pediatric dentist to evaluate their oral health.
To emphasize the importance of dental care to children and their parents.  By following a philosophy of preventative maintenance, we continually strive to ensure good oral hygiene and holistic well-being for generations to come.
Envisioning a future where every child has access to quality specialized dental care across communities we serve.
Converge by UKn, No 78/2, Ground floor, Nallurahalli Main Rd, Whitefield, Bengaluru, Karnataka 560066
let's plan your dental visit.
We are open all days and have full time resident pediatric dentists and orthodontists who can cater to your dental needs. Feel free to get in touch and we would be happy to set up an appointment for you.
Dental Services For The Whitefield Community
Check out our comprehensive dental program that cover all your dental needs. 
We are excited to now cover the dental needs of the whole family under one roof. Our dental specialists cover the whole spectrum of dental service such as endodontics, periodontics, orthodontics and oral & maxillofacial surgeries.
Growing Smiles is one of the preferred Orthodontic clinics in Whitefield having treated numerous successful cases. Our center is equipped with state of the art technology that provides a modern and fully digitized experience that to help you get the smile you want. 
The most disruptive technology in Orthodontics history is here and Growing Smiles is proud to be at the forefront of this revolution.Invisalign is suited for adults and kids keeping the modern day lifestyle in mind.It combines comfort, ease and affordability to ensure you can live life the way you want. 
Pediatric Dental Questions & Facts
Orthodontic Braces Questions & Facts
This blog aims to answer one of the most sought-after  advanced areas in the field of dentistry, which is Orthodontics. The dental science practiced by an orthodontist who's primary role is to correct malocclusions and straighten teeth using various Orthodontic appliances.
Know more – https://growingsmilesdentists.com/what-is-an-orthodontist/
Growing Smiles - Dental News
Our Pediatric dentists at Growing Smiles have taken the initiative of conducting free dental camps in and around Whitefield. We would like to thank Kiddo dent for giving us this opportunity who are pioneers in manufacturing pediatric dental care products such as tooth pastes and mouthwashes. Our initiative also extends to many orphanages and government schools to treat children with respect to their dental issues who are underprivileged. Oral health care is of utmost importance during the mixed dentition period in Kids and many dental schools conduct these camps with pedodontists as preventive dentistry goes a long way in helping the child maintain healthy permanent teeth according to the American academy of pediatric dentistry and the American dental association. We would like to encourage the parenting community in Whitefield and Bangalore to find a dentist for their child's first dental visit at Growing smiles pediatric dentistry.